Spring Mountain Vineyard is an 800+ acre winery located near St. Helena on the western slopes of Napa Valley. The winery has a history going back to 1884, making a splash in the famous 1976 Judgement of Paris, where it placed fourth in the white wine category. Since then, the winery gained notoriety as the shooting location for the 80's soap, Falcon Crest, which shot exteriors for six-weeks each summer, including the Victorian mansion on the grounds. More recently, the winery was purchased by Jacqui Safra, a Swiss banker, who has focused on making the winery the best it can be, bringing in Bordeaux consultants and the like. A naturalist himself, he cares about sustainable, biodynamic practices. This has paid off in recent years, with their signature Elivette Bordeaux/Meritage-style blend (2005) winning a Gold Medal in Decanter Magazine's 2010 World Wide Wine Awards. In addition, French Laundry, Thomas Keller's three-Michelin-starred restaurant, currently has three of their wines (Sauvignon Blanc, Estate Cabernet, Elivette) on their wine list.
Trivia: Elivette is a portmanteau of Mr. Safra's parents' names.
The vineyard has 226 acres planted across 135 blocks which range in elevation from 400 feet above sea level to 1450 feet and were originally four separate vineyards (Miravalle, Chevalier, Alba, La Perla). This is definitely mountain wine. Because of the rocky soil and steep terrain, the vines are planted much closer together (4-7 times denser), which reduces the yield of each vine and more importantly, the stress on each vine. Because of the higher density, the winemaker also went with a very old (Roman times!) method of vine training – the vertical gobelet, which is used to maximize sunlight penetration into the vine. This is important due to the hillside location, which limits the amount of sunlight exposure.
It was a beautiful fall day last year in September, that I found myself standing under olive trees, looking up at the vines growing on the terraced hillside. I was there for a standing tasting, and we started with their 2008 Sauvignon Blanc. Cool and crisp, it was how I liked my white wines and matched the morning beautifully. Progressed through a nice '07 Syrah and a very nice '07 Cabernet. But for me, the highlight was the Elivette blend. The '06 was very good, but the '01 they let us taste was superb. I admit this was my first taste of decade-old wine, as I can't afford to pick them up off the shelf, but boy, that's what I want it to taste like! The depth of flavor and the smoothness was… remarkable. My tasting partner, Mark, said he thought it was pretty good, but not the best he'd had for that age. The generous and multiple pours were very nice, especially with such lovely wines.
I asked our hostess, Jeridan, about their harvest, and she commented that it was going to be very late, extending through October and perhaps even November.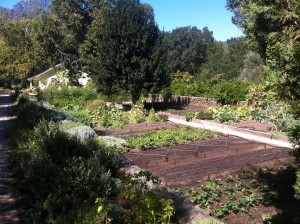 Though I was only there for the tasting, there was a VIP/rich-muckety-muck who had shown up in a limo, and so we got an abbreviated bonus tour of the grounds and their wine cave. Jeridan was wonderful in showing us around and even offered us figs and squash from their organic garden. The grounds are quite beautiful – if you're taking people who want to sightsee a bit more (or are Falcon Crest fans), it's worth getting the seated tasting, which includes a tour of the grounds, which are fairly extensive and include both edible and decorative gardens.
I should mention that the VIP status of our fellow tasters may have affected my particular tasting experience and may not represent a typical experience.
Tours and tastings are only available by appointment and occur on the hour. Without an appointment, you won't get past the front gate. Tasting options run from the standard varietal tasting at $25 through their reserve (Elivette) vertical tasting at $100. The tasting fee is refunded with minimum purchase.
Highly recommended.